"Weep" Public Sound Installation Commission
At the base of the weeping willow situated by the canal, tables fill the coffee shop terrace of the cultural center, over looking a growing line up of tourists waiting by the dock for their boat cruise tour of Brugge.
Using the two wood tables next to the tree as speakers, a couple is heard discussing a story of the weeping willow.
The couple comment on the extent to which she cries, how lonely she is and how tourists gaze at her just to pass and simply float on her tears for a better view of other things. They discuss how her out reached arms touch the water, as the tourists sit huddled together in the line up and in boats, and how in summer she goes green with envy.
The extent of the conversation from tactile table is about 5 to 10 minutes and plays every hour.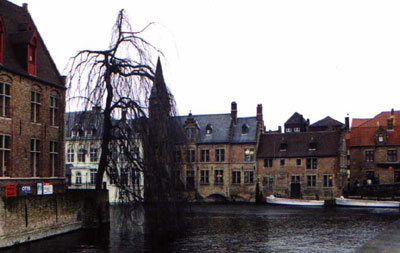 Exhibited:
Location: Brugge Cultural Center, 2002
.wav festival Brugge, Cultural Capital of Europe 2002